An influencer campaign drove 54k visits to Easho's site. Here's how it went.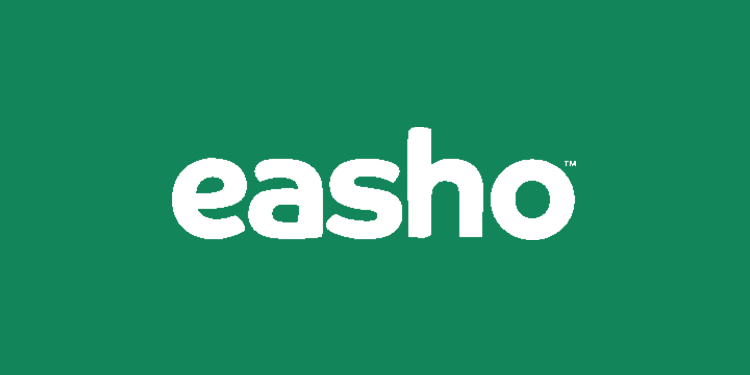 Easho—a combination of "easy" and "shopping"—is a British ecommerce company redefining how shoppers buy health and beauty products, office supplies, and bathroom essentials. The company radically simplifies bulk buying by bringing the wholesale club model to the digital world. Easho's collaborations with social media influencers to spread brand awareness have led to unprecedented levels of traffic to their website.
Challenge
It's notoriously difficult to predict when a surge in online shoppers will come from an influencer marketing campaign. It's often unknown when an influencer will post or mention the brand, and it's often uncertain how well an influencer will actually resonate with the brand.
Easho had previously teamed up with Instagram's @mrshinchhome, a home cleaning and design influencer. During a collaboration when @mrshinchhome had about 20k followers, Easho's site received traffic that slowed their site and jammed up their payment systems. Easho planned another campaign and didn't want to risk their customer experience and their business relationships to another site failure.


"When we decided to do another promotion with Mrs. Hinch, she'd gone from 20k followers to just under 1 million. We were aware that we needed to have something in place to prevent website issues from happening again."
Sonya Chatwani, Co-Founder, Easho


Solution
Because the details of the collaboration were only finalized a few days in advance, Easho sought help from their web hosting provider, who recommended Queue-it.
Queue-it implemented its virtual waiting room directly within the Instagram story. Followers swiped up in the story and were directed to a customized waiting room page which sat in front of a curated collection of the influencer's favorite cleaning supplies.
Importantly, users in the waiting room were not kicked out in case they opened a new tab, or their phone went to sleep. This functionality is not offered by all virtual waiting rooms, but has been built into Queue-it's system infrastructure for years.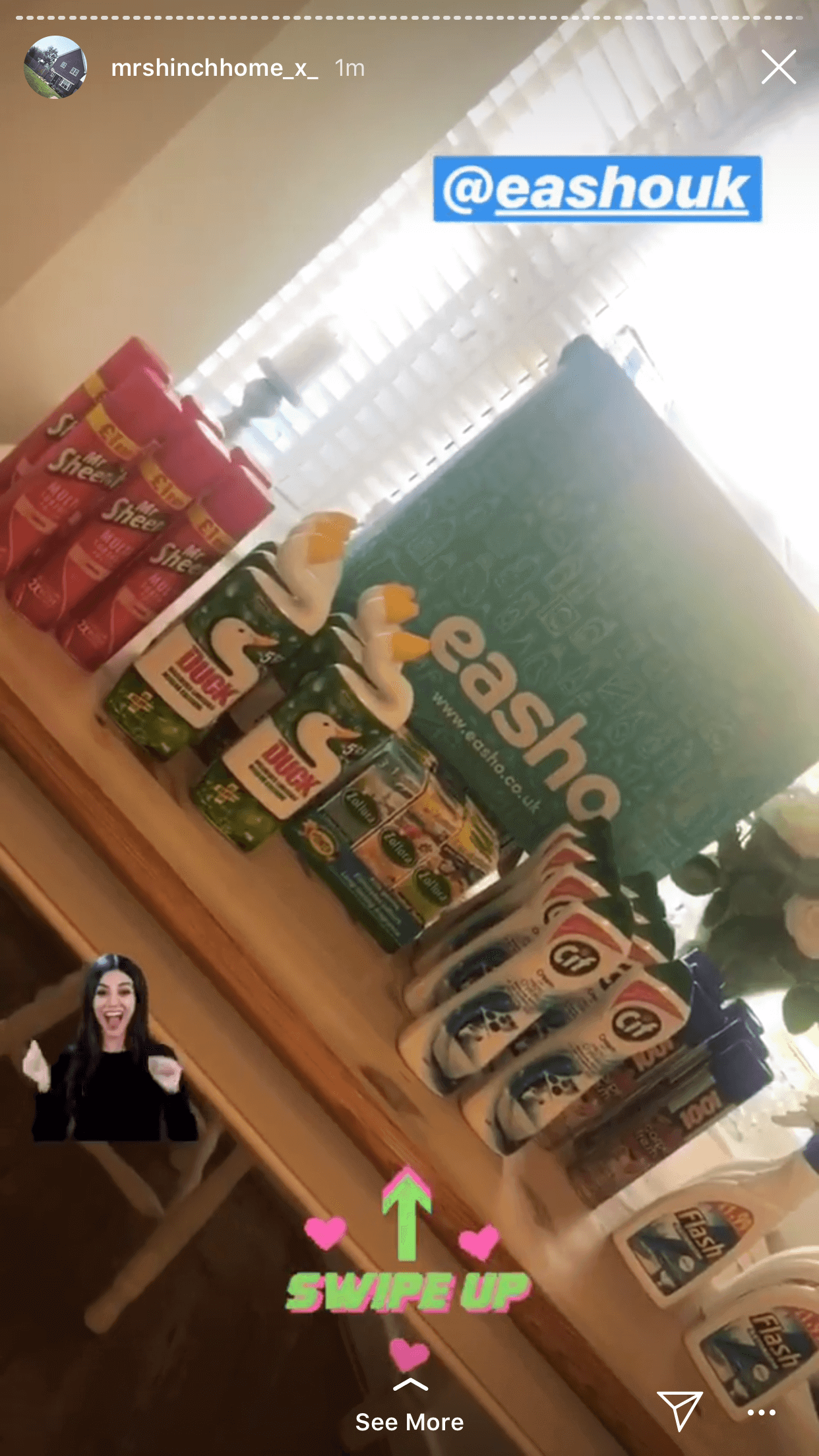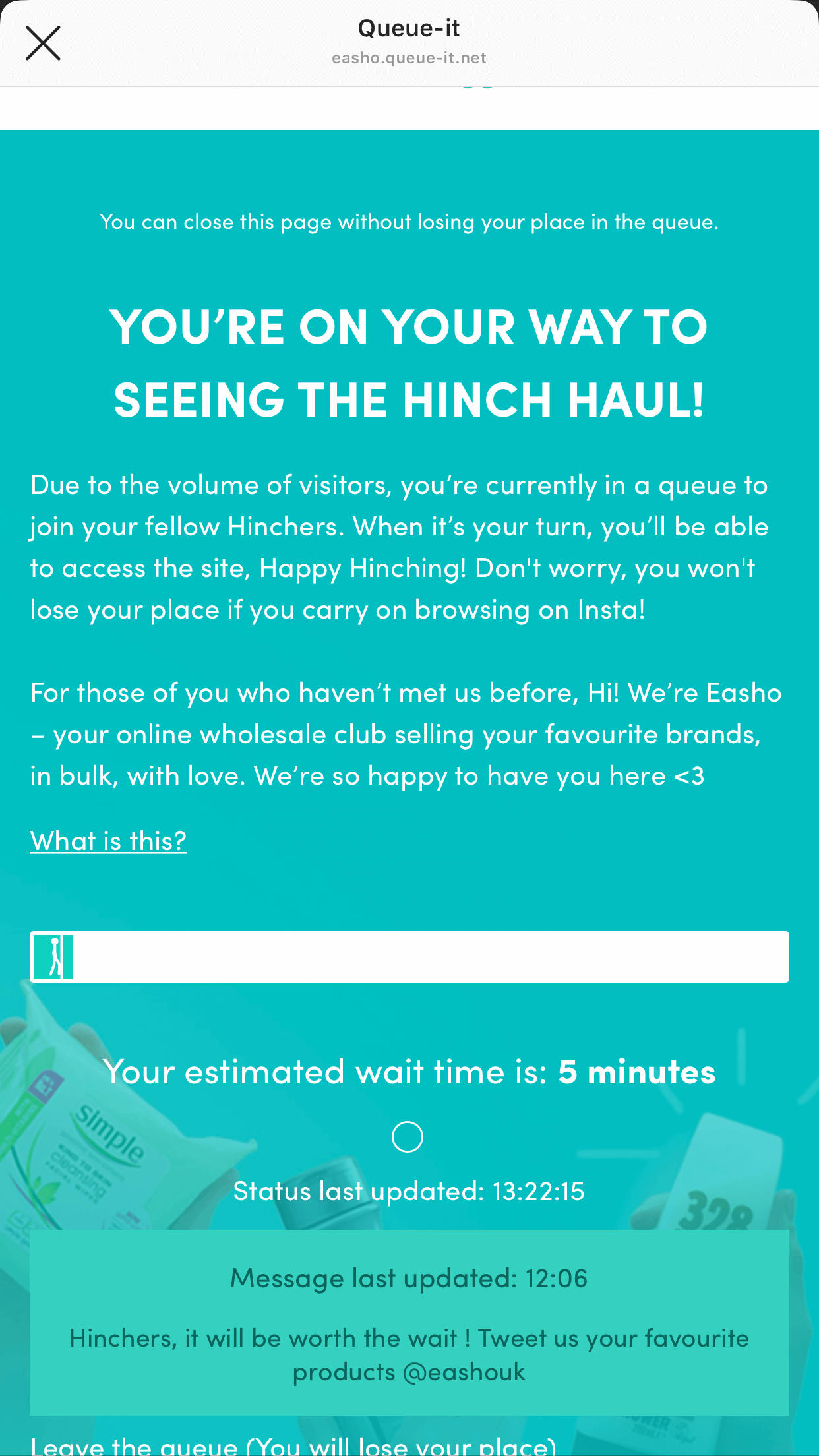 "I was really impressed with the implementation. I spoke with a sales rep at 10pm on Wednesday night and on Thursday morning we had a technical engagement manager and my developers on a call. The most impressive part was it was literally within a day this was up and running."
Sonya Chatwani, Co-Founder, Easho


Results
It turned out that Easho was right to worry about a traffic surge. In the first minutes after the influencer added the link to her story there were over 1,500 simultaneous users waiting to buy Easho's products. Over 54,000 shoppers ended up entering the waiting room throughout the four-hour duration of the sale.
Easho found that the hype created by the waiting room page, amplified on Instagram and other social media, added to the whole allure and publicity of the collaboration. And it provided key social proof for others to join in.
Overall, Queue-it created the stable, positive customer experience that Easho was so keen on providing to its customers, allowing it to cement its brand as a go-to destination for bulk home goods shopping.


"The biggest business benefit overall was the sales that we managed to save from a website crash. To be completely honest, without Queue-it our site probably wouldn't have been able to handle it and we would have been down for several hours."
Sonya Chatwani, Co-Founder, Easho

About Easho
Easho was launched in 2017 by Sonya Chatwani, Liam Duignan, and Aymi Duignan. Since then they have worked to take the stress out of bulk buying by moving the shopping online.