What are ticket bots? How do they work? Are they illegal? How do we beat them? Get the answers to these questions & learn everything you need to know about ticket scalping bots in this comprehensive blog post.
1,000+ concert tickets bought by one bot in one minute. 15,000+ tickets bought by two bots in a day. Up to 7,000% markups for tickets on secondary markets. These are just a few of the damning ticket bot data points highlighted by the New York Attorney General.
Ticket bots take money out of the pockets of genuine fans and make online ticket sales unfair.
That's why everyone from politicians to musicians to fan alliances are fighting to stop bots from buying tickets and restore fairness to ticketing. That's why online ticketing organizations are on the front lines of a battle against ticket bots.
But what are ticket bots, how do they work, and how can they be stopped? Read on to discover everything you need to know about ticket bots—and how you can beat them.


Table of contents
A ticket bot, also known as a "scalper bot", is software that's designed to help purchase tickets by performing automated tasks like scraping pricing details, checking inventory for newly released seats, or purchasing and reselling tickets.
Ticket bots typically imitate the behavior of human users, only faster and in larger volumes. This means these scalper bots can unfairly find and purchase tickets in ways human customers can't.
Bots are a massive problem in the ticketing world, making up almost 40% of all ticketing website traffic. They're one of the main reasons you can't get tickets to see your favorite artists, sporting teams, or live events.


Ticket bots use software to execute automated tasks based on the instructions bot makers provide. Bots buy concert tickets in bulk by using speed to purchase tickets faster than regular people, and volume to get around ticket purchase limits.
What all ticket bots have in common is that they provide the person using the bot with an unfair advantage. If shoppers were athletes, using ticket bot software would be the equivalent of doping.
Ticket bots have many vectors of attack. The strategies used by bots are best understood based on where in the ticket purchase process they're used. Consider the following timeline:

Prior to the sale of tickets online, bad bots are used to create fake accounts or take over existing legitimate ones.
For example, one ticket broker apparently used 9,047 separate accounts on Ticketmaster to make 315,528 ticket orders to "Hamilton" and other popular events over a 2 year period.
Account creation bots
Fraudsters abuse the account signup process by using bots to create accounts in bulk. These accounts are then misused to get around ticketing purchasing limits (most ticketing companies limit to 4 or 6 tickets per customer).


Account takeover bots
Ticketing touts also try to get control over existing legitimate accounts. They either use bots to guess common usernames and passwords (called credential cracking) or to perform mass login attempts for stolen username/password pairs (called credential stuffing).
During the onsale itself, scalpers use ticket bots' speed and volume advantages to beat loyal fans to the tickets and scoop up as much inventory as they can.
Bot operators use this lightning speed across several browsers to circumvent per-customer ticket limits.
By combining superhuman speed with sheer volume, bot operators effortlessly reserve hundreds of tickets as soon as the onsale starts.

A ticket buying bot reserving and purchasing multiple sets of tickets.
Ticket scalpers use one or several of these ticket bots to reserve and purchase tickets:


Expediting bots
Scripted expediting bots use their speed advantage to blow by human users. An expediting bot can easily reach the checkout page in the time that it could take a fan to type his or her email address. And a single bot can open 100 windows and simultaneously proceed to the checkout page in all of them, coming away with a huge volume of tickets.


Scraping bots
Scraping bots scan the web and monitor for specific types of tickets. When they find available tickets, they use expediting bots to quickly reserve and scalping bots to purchase them.


Denial of inventory / Spinning bots
Ever wonder how concert tickets are available on resale sites like StubHub or Viagogo even before the tickets go on sale? Next-generation denial of inventory bots are to blame.
Denial of inventory involves using bots to add tickets to the cart, making them unavailable for fans to buy. Scalpers know some fans will see the "no tickets available" messaging and will want to go to the event so badly they'll pay whatever just to get their hands on a ticket. So, the scalpers list the tickets on the resale sites.
When the fans buy at the outrageously inflated resale prices, only then will the scalpers have their bots buy the tickets, pocketing a huge profit in the process.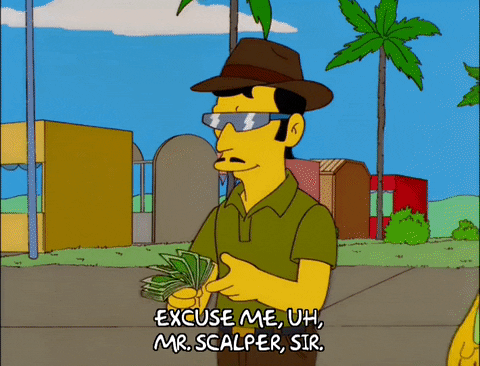 RELATED: Tickets Sold Out? Debunking the Instant Sellout Onsale Myth


Scalpers nearly always use bots to exceed the ticket limit, thus breaking ticketing companies' terms of service. While some scalpers will pay for these tickets with legitimate credit cards, the worst scalpers do this all with stolen or hacked card information, increasing their scalping profit.


Cashing out bots
Cashing out refers to the general online credit card fraud that occurs when fraudsters use stolen card info to buy the tickets. In advance or during the ticket buying itself, fraudsters use bots to verify the validity of stolen cards (known as carding) or identify missing expiry dates or security codes for the stolen cards (known as card cracking).
Fraudsters, touts, and scalpers use bots for unfair advantage and fraud in every step of the ticket scalping journey.
Get your free guide & discover how to block bots for your onsales 👉