Stauning Whisky is a whisky distillery founded in 2005 to create the first Danish single malt whisky, made exclusively with local products and traditional methods. The company's unique process and quality products quickly made it popular with whisky enthusiasts, and its limited releases garnered a lot of attention. What started off as a hobby for nine friends soon became a serious and thriving business.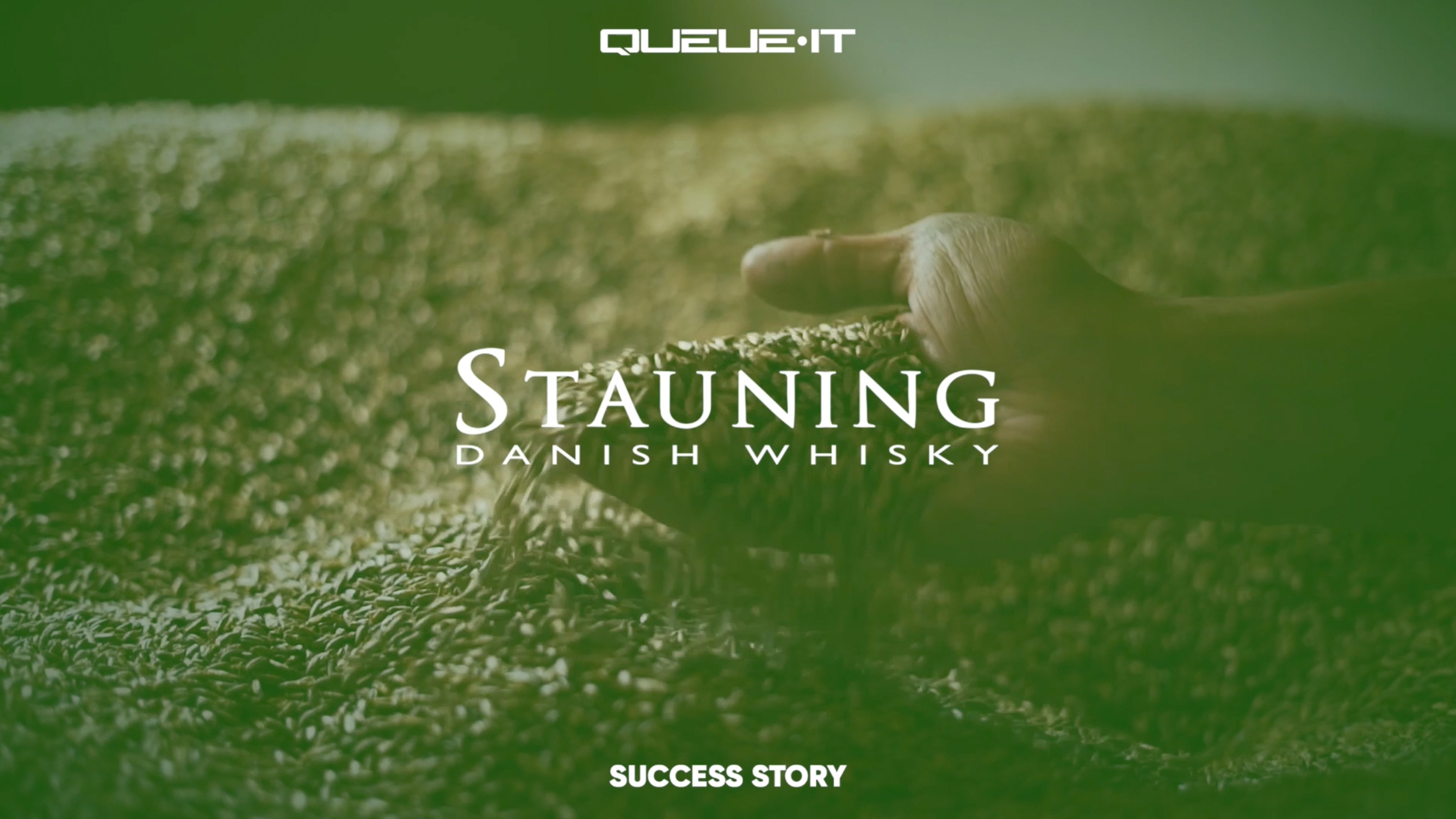 Challenge
However, this rise in popularity did not come without challenges for the business. Stauning Whisky releases a limited quantity of whisky (between 500 to 2,000 bottles) at a time, which would sell out quicker than their website could handle. Although Stauning Whisky first tried to increase their website capacity, they continued to experience downtime during releases that left many customers dissatisfied. The company was on the lookout for a better solution.


"We had to use something that was safe and tested and that's when we came across Queue-it."
Hans Martin Hansgaard, Co-Founder, Stauning Whisky

Solution
Stauning Whisky decided on Queue-it's virtual waiting room not only because it was reputable, but because it ensured they could control the number of customers allowed in the shop, while maintaining open comunication about wait time and the number of bottles available. The company also opted for features such as a pre-queue, where customers are randomly assigned a place in line prior to the start of sales, to ensure a fair shopping experience. In addition, whisky fans had an informed wait, receiving e-mail notifications about when they could enter the shop without having to sit in front of a screen.


"It's very controlled. The virtual waiting room gave us the opportunity to communicate with customers in line until the sales were over. And that's been very satisfying, a great situation for both our customers and Stauning Whisky."
Hans Martin Hansgaard, Co-Founder, Stauning Whisky


Results
By using Queue-it's virtual waiting room, Stauning Whisky managed to control online traffic peaks and avoided website downtime. Using the pre-queue, communication pane, and emailing features, the company has succeeded in providing a fair and consistent shopping experience for its customers during limited releases.


"The conversion rate of our product and people who are waiting in line is very close to 100%. People who are waiting are also buying the product until it's sold out. We have had a great experience working with Queue-it."
Hans Martin Hansgaard, Co-Founder, Stauning Whisky


About Stauning Whisky
Located in western Jutland, Award-winning Stauning Whisky, located in western Jutland, is Denmark's first whisky distiller. Its products and limited releases have become increasingly popular over the last decade. Their whisky has even found its way into Denmark's most exclusive bars and restaurants, including Noma, four-time winner of World's Best Restaurant.