"A better student experience": How MacEwan University handles course enrollment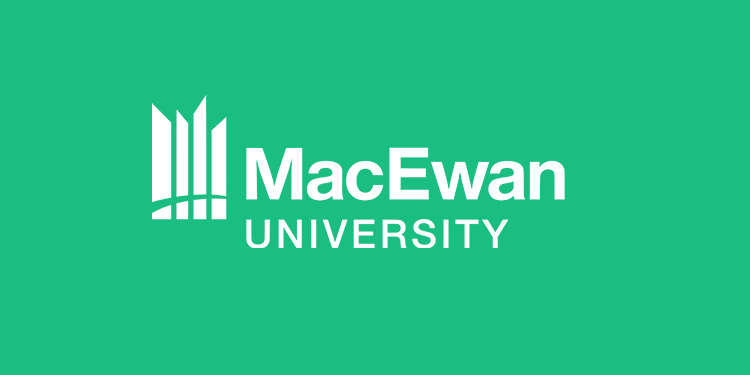 MacEwan University has been "teaching greatness" for 50 years. But with almost 20,000 full and part-time students, high demand course enrollment was putting massive strain on their systems. Discover how MacEwan used Queue-it to manage this demand and deliver "a better student experience."
Located in downtown Edmonton, Western Canada, MacEwan University is an undergraduate post-secondary institution with the guiding strategic vision of "teaching greatness." It's a fast-growing university with a focus on constantly improving the student experience, both in classrooms and online.
Working behind the scenes to keep the digital student experience up to a high standard is Vamsi Ramanadham, MacEwan's Director of ERP Applications, and his team.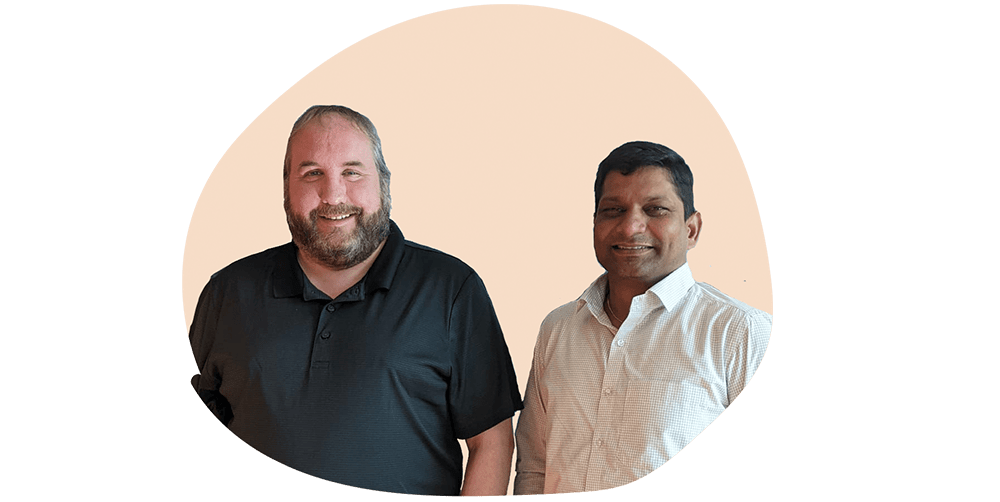 MacEwan's ERP system, the PeopleSoft Campus Solutions application, is the hub for students' full lifecycle, from applying to programs to registering for courses to paying tuition fees.
This system also handles applications that deal with staffing and employment activities, financial transactions and management. It's the back-office backbone of the digital staff and student experience for MacEwan University.
But during high demand course enrollment, this crucial system was being put under serious strain, suffering slowdowns and crashes. Discover how Ramanadham and his team used Queue-it to handle this peak demand, turning the course registration rush into a fair and seamless process.
MacEwan's bi-annual course registration rush
A couple of times each year, when course registrations open at MacEwan, thousands of students sit poised and ready to register for spots in classes with limited capacity. Ramanadham told us:
"During the registration period, enrollment appointments open to thousands of students on each day at an exact time. Many of these students are hoping to get into classes they need to complete their program and fulfill their degree requirements. So it's thousands of people clicking the links and thousands of students trying to do the same action. This is the peak period for us in terms of the strain on our systems."
For MacEwan's ERP applications and on-premises servers, which usually handle a few thousand daily requests from students and staff, these peaks were causing slowdowns, errors, and system crashes.
"We're sized to address peak load, but these enrollment registrations went beyond what we could meaningfully manage. The issue with just scaling up is that there's always a limit to how many servers we can buy. And there's also the question of the viability of investing in these additional servers that only get used for half an hour on a few days each year. Public institutions like us just aren't in a position to do something like that."
The issue for Ramanadham and his team was these course registrations were a crucial part of delivering a fair and reliable student experience.
"When the systems crashed, some students were thrown out and others lost their chance to complete their class enrollment. Some students got lucky and got through, but this just put others at a disadvantage. Ultimately, we wanted to ensure every student was getting a fair deal."
The ERP, IT, and business teams knew this needed to change. Their goal was to deliver a fair and seamless enrollment experience that matched the high quality of the classes that students were applying for.
"We weren't willing to accept that these issues are just something that have to happen a couple times each year. At MacEwan University, we're always student focused. We want to provide a student experience that's comparable to the best out there."
Vamsi Ramanadham, Director of ERP Applications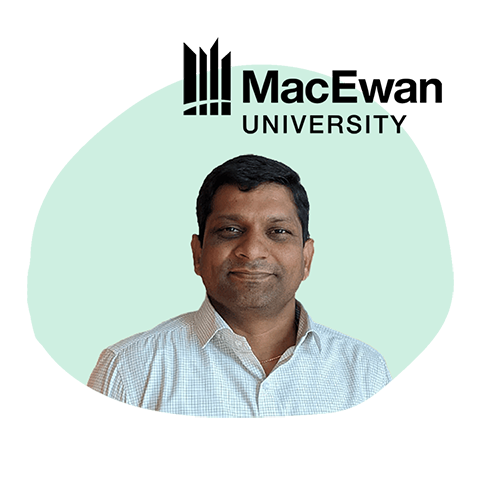 Queuing for a COVID test, the solution appears
Ramanadham and his team tried many solutions to tackle these performance issues, from optimizing their systems to asking the scheduling team to spread the enrollment appointments for course registrations. But these attempts were in vain, and the root problem of high demand remained. 
One day, while booking a COVID test, the solution Ramanadham was looking for appeared.
"Queue-it came to us, really. We saw the virtual waiting room when Alberta Health Services were letting people book COVID-19 tests. And while we were waiting, we realized the load was being managed on another server. We took that concept and asked, 'why can't we use this for our peak registration periods?'"
Ramanadham reached out to Queue-it shortly after and had the virtual waiting room solution in place for MacEwan's next peak registration period.

A smoother peak enrollment period
After integrating Queue-it's virtual waiting room into PeopleSoft, the team eagerly waited for the result.
"On the first day, our team stayed together to monitor what would happen. It was our first time using the waiting room in production and we wanted to make sure it was set up and working properly. But we didn't need to do anything, really. It did exactly what it was supposed to do. We ran a pre-queue for a few hours before the event was scheduled to start. We watched the waiting room fill up with students and monitored the inflow metrics. Then, at 8:30 when registrations were open, we watched the outflow and saw students successfully registering for classes."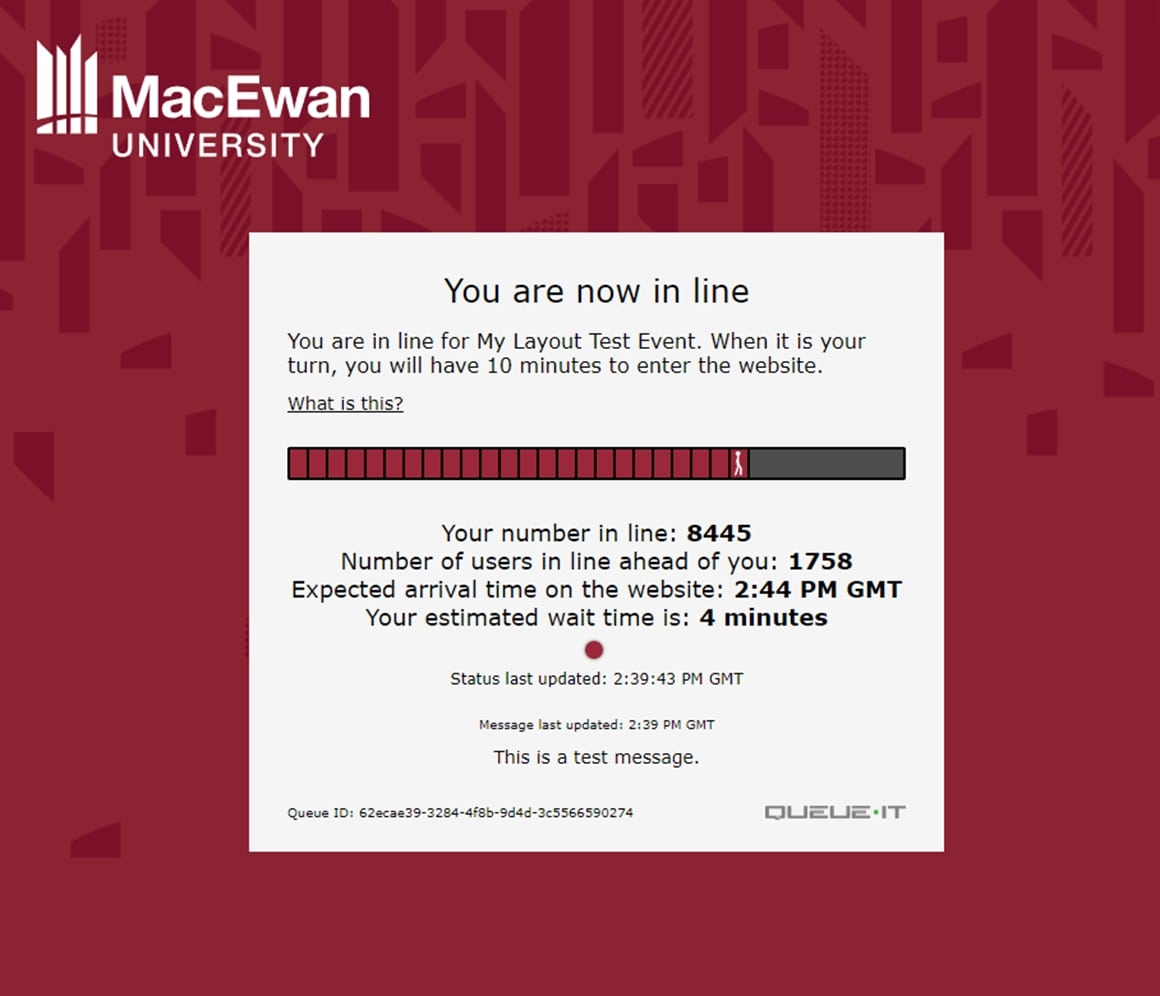 Course registrations on the first day ran smoothly and seamlessly. The team configured the waiting room to only activate on the transaction page, so for those who weren't registering for classes, other ERP applications remained accessible and functional.


"We set the waiting room up to only protect the enrollment transaction, so users could enter the application without any restrictions. It was only when they tried to enter the enrollment page that they were put into the waiting room. This was important for us because it was only that enrollment transaction that needed protecting."


Even on the second day, when the team set the max outflow too high and let too many students onto the transaction page, Queue-it's system let them lower the outflow and fix the issue in real-time:
"We had one problem on the second day where we started with our outflow too high, which caused some system issues. But what was great is we didn't have to do any system reboot or anything. We could just adjust the outflow of the waiting room on the fly."


Delivering a better student experience
The peak enrollment period was a resounding success, with the waiting room doing "exactly what it was supposed to do," Ramanadham said. Even those at the university who were initially skeptical had a change of heart after seeing the solution in place.


"Some of the faculties were worried about what the student experience would be like with the waiting room and moved their class registrations to another day. But once they saw how it worked, they moved them right back to the same period. So I would say that shows how good the overall experience was using Queue-it."


Now, Ramanadham and his team are running course registrations without "the performance issues we used to face." They're confident they have a fair course enrollment system that can match the top-rate student experience MacEwan delivers.


"I have no hesitation recommending the virtual waiting room as a solution for universities facing issues managing course registrations. It streamlined the process of managing peak load and that translated to a better student experience, which is key for any university that puts students first."