How LSE delivered "a much smoother experience" during online course selection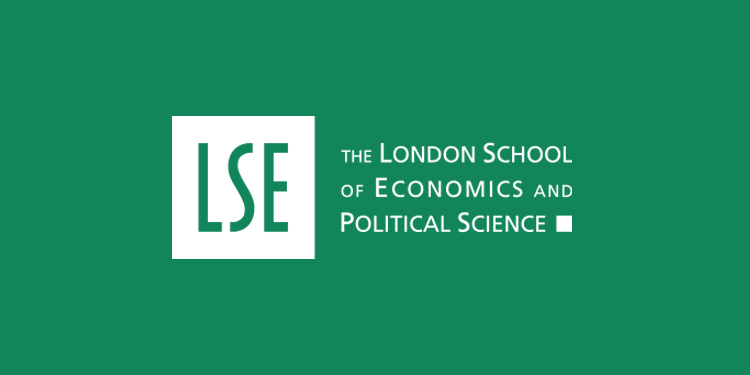 London's top ranked university and among the most renowned in the world, the London School of Economics and Political Science (LSE) delivers world-class, research-led teaching. But during course selection, overwhelming demand was threatening that experience by putting stress on LSE's IT systems. Discover how LSE used Queue-it to deliver "a much smoother experience" during course selection.
The London School of Economics and Political Science (LSE) opened in 1895 with just three rooms and 200 students. Over a century later, it's London's top ranked university and among the most renowned social science institutions in the world.
LSE boasts 11,000 core residential students and 40,000 additional students involved through extended course programming. The university is a research-led teaching institution and has ambitious plans for the future, as outlined in its LSE 2030 strategy.
A key element of that strategy is to "provide consistently excellent student services." This, in part, involves "strengthening administrative processes and driving more consistent quality of delivery across the School."
That's where the LSE Business Improvement Unit and Cheryl Edwardes, LSE's Head of Business Change Management, come in.
The Business Improvement Unit delivers change projects and programs to build towards LSE's 2030 strategy and improve the university's student and staff experience.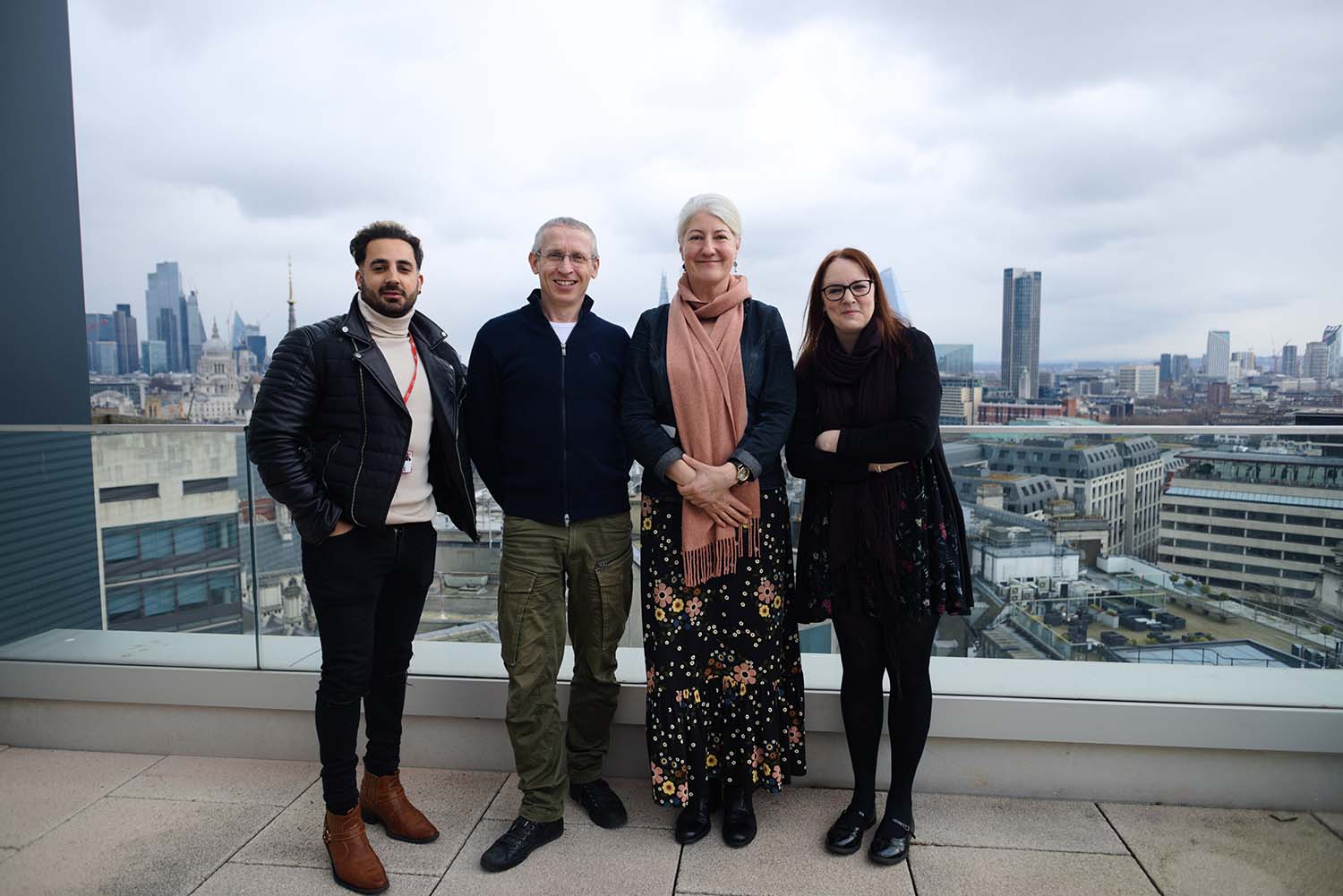 The LSE Business Improvement Unit (Edwardes on the right)

For academic year 2022/23, a key focus for the School and the Business Improvement Unit is optimizing course selection and timetabling for students. We sat down with Edwardes to discuss how LSE achieved "a much smoother experience" for course selection using Queue-it's virtual waiting room.
As with most universities, LSE faces peak strain on its IT systems a few times a year during course selection.
"When course selection opens at the start of term, all of our students access our systems to get their places on courses," Edwardes tells us. "That puts an enormous amount of pressure on those systems, which meant that at times students were encountering error messages or the system just couldn't cope with the load being put through it."
The degree structure at LSE allows students to choose options from a range of courses, rather than follow a completely pre-set study stream. This, combined with world-renowned academics teaching extremely popular classes, makes competition high for places on some of LSE's courses.
"That again adds a bit more pressure to course selection," Edwardes says. "Many students have built an ideal program for themselves before they go into the system, and have identified specific courses they really want to take."
With thousands of students racing for limited places, "the demand is high, the pressure is high," Edwardes says.
"We wanted to implement a system that would enable students to feel that they had been treated fairly and make their experience as smooth as possible."
Cheryl Edwardes, Head of Business Change Management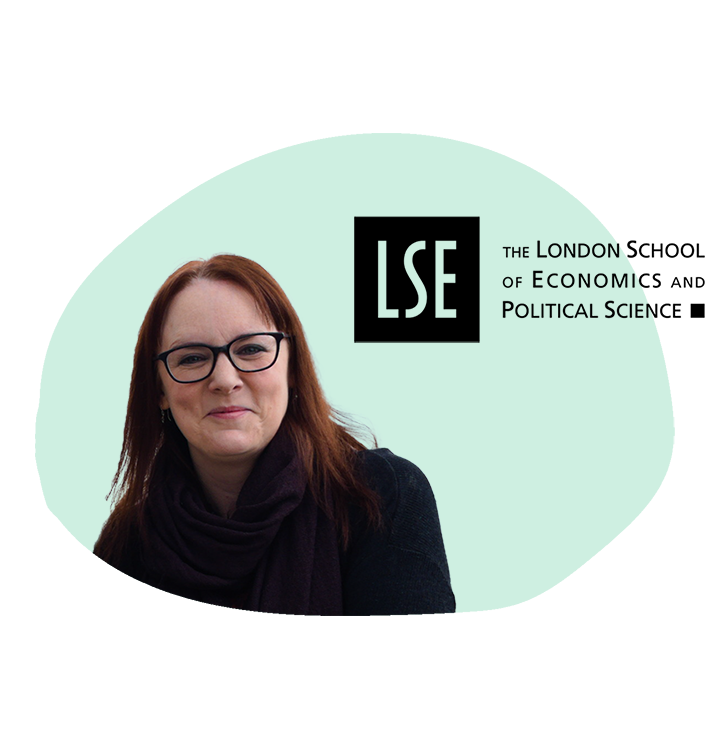 The Business Improvement Unit where Edwardes works is focused on working with colleagues across the University to shape and deliver change projects which improve the student and staff experience at LSE. Following the pandemic, the team particularly focused on the digital student experience surrounding course selection and timetabling.
"Students care deeply about what they're going to be studying," Edwardes says. "And course selection is one of the first things they encounter when they study with us. So it's an important touchpoint, and we've been looking at how to optimize that experience for them. We need to optimize and maximize processes for students so they have the best possible start to their education and experience with us."
Improving the course selection process had been on the University's radar for some time and they had enhanced several aspects of their in-house solution, but still faced issues like students occasionally being logged out or receiving error messages.
It wasn't until one member of the team was shopping online, Edwardes tells us, that "he had a lightbulb moment. He was waiting in an online queue and realized it was limiting the flow of traffic and thought, 'we can use this to address our course selection access issues.'"
"It was a conceptual change of reference for us," Edwardes says.


"We'd been looking at it from the perspective of how we improve our system to handle more students, rather than how we might add something to the process."
"And so, it was really interesting to realize there's a solution which would support the students and create a smoother journey, that we could just add on to what we were already doing," says Edwardes.


A research institution through and through, LSE didn't take the implementation of Queue-it lightly. Edwardes oversees change at LSE from a people-centric perspective, bringing together the interests of students and staff and ensuring all changes to processes are well implemented, well communicated, and well received.
"We held a workshop where we demonstrated Queue-it to the students. We showed them what it would look like and asked for their views on presentation, useability, and communications. It went really well. Everyone was very positive about it," Edwardes says.
"Because there hadn't been a formal queuing system in place previously, I wondered if we might get some pushback from academic departments around the concept of students having to wait in a formal way. But we didn't at all. None of them. I really thought that might happen, but we had very positive feedback."
After the warm reception of the waiting room solution, the technical team got to work on testing and implementation and Edwardes got to work communicating the new course selection process to staff and students.
"We did some pre-emptive communication to raise awareness including making a video walkthrough available to staff so they could see what the process looked like from a student's perspective."
With Queue-it implemented, tests run, and students informed, the waiting room made its LSE debut for undergraduate and postgraduate course selection in 2022.
The technical team gathered in the war room—or "control room" as they call it at LSE—and they launched the pre-queue waiting room before course selection opened.
Queue-it's pre-queue functionality allows organizations to protect their site and gather visitors ahead of a sale or registration, as in the case of LSE. It displays a branded page with information and a timer that counts down to the start time.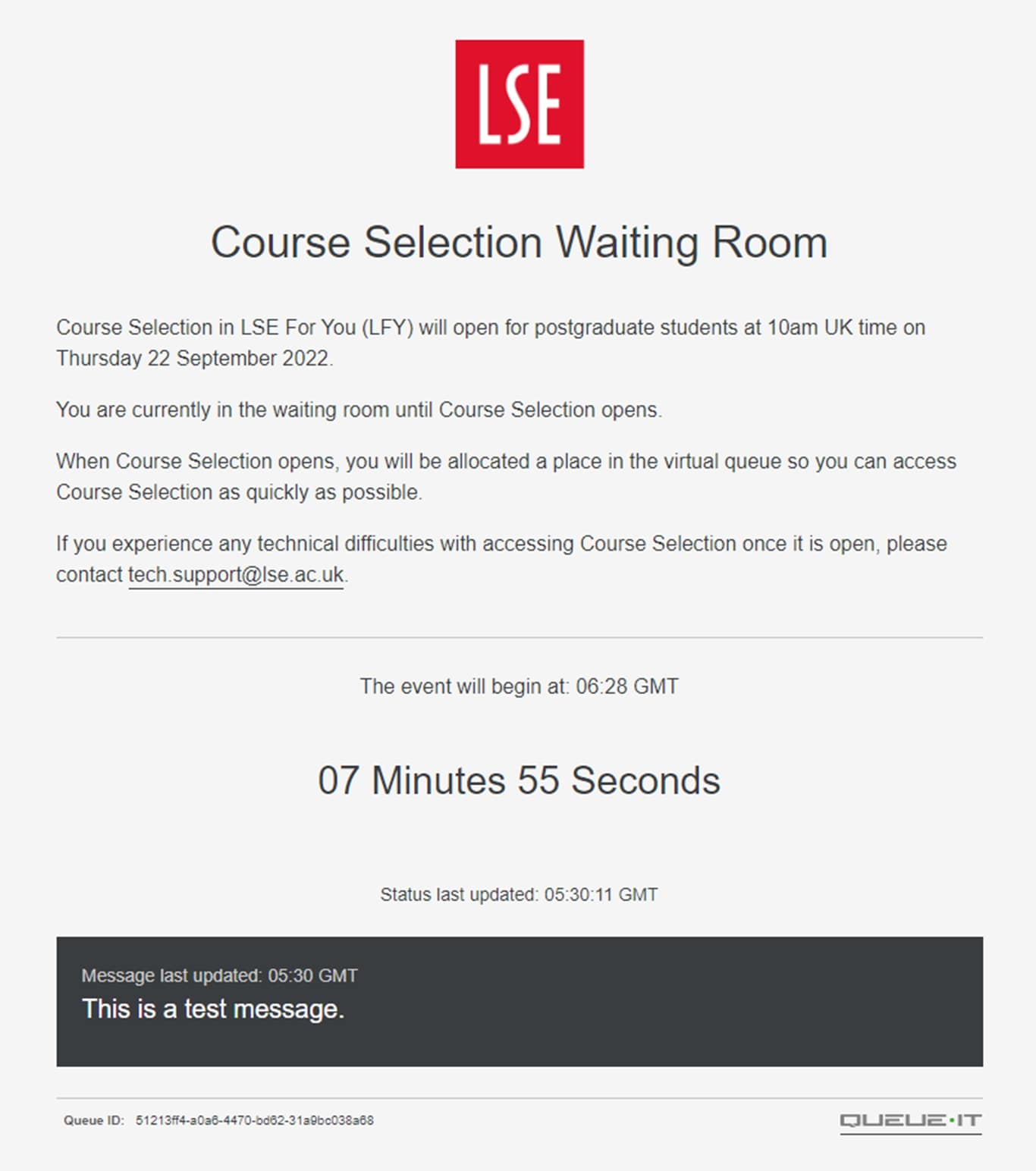 LSE's course selection pre-queue

When the timer on LSE's course selection pre-queue hit zero, the pool of students gathered on the page were given a randomly assigned position in queue, to ensure a fair and equal chance at access.
Edwardes explains that LSE used this pre-queue process, which is often used for high-demand, low-supply events like ticket sales and product drops, because:

"We wanted students to have a smooth and fair experience. Even if their course selections didn't pan out to be exactly what they'd wanted, they'd know that the system was something they could understand, was transparent, and was as fair as possible."
Edwardes described the customizable queue page as "really helpful," saying, "we were able to LSE-ify it and make it look like our own. This meant students didn't notice they were going from one system to another, but just felt like the waiting room was part of a flow. It added a layer of professionalism to what we were already doing. Many students have already queued for things like music festivals and concerts, so from a student perspective it's a familiar experience, but we were able to deliver it in a professional, customized, LSE way."
LSE's course selection waiting room page


The control room is "usually quite tense" during course selection, Edwardes tells us. But as students filtered from the waiting room to the course selection page and chose their courses with no errors, it became clear the new process was a success.

"It's a new thing, so there were some butterflies about how it was going to work," Edwardes says. "But the system worked really well and was very reliable. We got some great feedback on it."
Aaron Donaldson, LSE's Head of Data and Development, tells us, "The queuing system worked exactly as we hoped it would. It helped us to successfully mitigate known issues with our code by managing the number of students accessing our systems at any one time. Importantly, no students were logged out of the system, and their access was managed in a fair and orderly way."
Beyond preventing issues for students, the team found unexpected benefits from the real-time insights and statistics available in the GO Queue-it Platform. During the course selection process, for example, Edwardes used this information to keep other departments updated.
"We could communicate with academic departments about things like maximum wait time and progress instantaneously, which we've never been able to do before. That information came straight from the control room to me, then I distributed it to the wider School. People really appreciated that level of transparency and information to help them respond to student questions. They had up-to-date information at hand for when they received enquiries from students, which was really helpful."
No students were logged out of the systems during course selection, and access was managed in a fair and orderly way.
As one impressed student told the department:


"I made my course selection on the 21st and did encounter the queuing system. It all operated well on my end, and I had no problems getting through to the course selection page. I was slightly worried because I was trying to make my way into work at the library for 10:30AM that day, so was losing and gaining internet connection as I got on and off tubes. The fact that I managed to keep my place in the queue regardless was a particular relief, and really made the whole process much less stressful. Overall, it worked perfectly, and was a much smoother experience than what I remember from last year."

Edwardes tells us this was just one of many pieces of positive feedback they received: "We only got positive feedback on the queueing system from students. And I think the reason for that is it presents a different face to them. It shows the system is transparent and, students have a fair and equal chance to access course selection. Importantly, it mitigated any unpredictability or ambiguity. The fact that students knew exactly what was going on at each stage of the process made a big difference compared to previous years."
The broad range of projects the Business Improvement Unit works across are guided by the LSE 2030 strategy, feedback from staff and students, and a drive to improve the experience of everyone at LSE.
"Our team is quite new, but it's expanding," Edwardes says. "We're recruiting different roles to support the initiatives, projects, and program activities we're running. It's all an investment into helping us progress towards our 2030 strategy."
By optimizing the course selection process using Queue-it, the team has taken another step towards the ambitious goals set out in that strategy. And they've made a real impact, Edwardes says, for LSE's students.
"Course selection is an important part of the student experience. Particularly after the pandemic, where studies have been affected and it's been difficult for everyone. We wanted to show students we could make a difference to something that means a lot to them. And I think we've done that by implementing Queue-it."