The Barbican is Europe's largest multi-arts and conference venue located in London, UK. The center hosts both classical and modern concerts, theater performances, and exhibitions.
Challenge
The Barbican was anticipating a large online turnout during the ticket release for their production of Hamlet, starring actor Benedict Cumberbatch. The venue was looking for a solution to manage expected end-user overload while maintaining high customer satisfaction.
Solution
The Barbican chose Queue-it to ensure a positive queuing scenario during ticket releases. The venue's waiting room featured a 'Queue-it Barbican Hamlet Man' that alerted customers of their position in line. Overall, the Barbican noted that Queue-it's system was easy to implement and use, and came with exceptional support from a helpful support team that provided advice during pre-event planning and testing.


"We were satisfied that the ticket sales were smooth and provided a fair queueing process … Queue-it allowed for us to communicate clearly and efficiently with customers in queue, and kept our website up and running, even with more than 60,000 customers in queue on the day of the release and over 100,000 customers visiting our site throughout the ticket announcement."
Nicholas Triantafyllou, IT Business Systems Manager, The Barbican


Results
Customer satisfaction was maintained throughout the ticket purchasing process. The venue garnered more positive press and social media activity than anticipated. According to various publications, Hamlet was said to be the fastest selling and most in-demand, searched for, popular, and high-interest theatre performance of all time. The show sold out 7 hours after their release, one year before opening, with press coverage speculating that there had never been this much demand ever before for a theatre production.
Customers also took to Twitter to declare their positive experience with Queue-it on the Barbican site: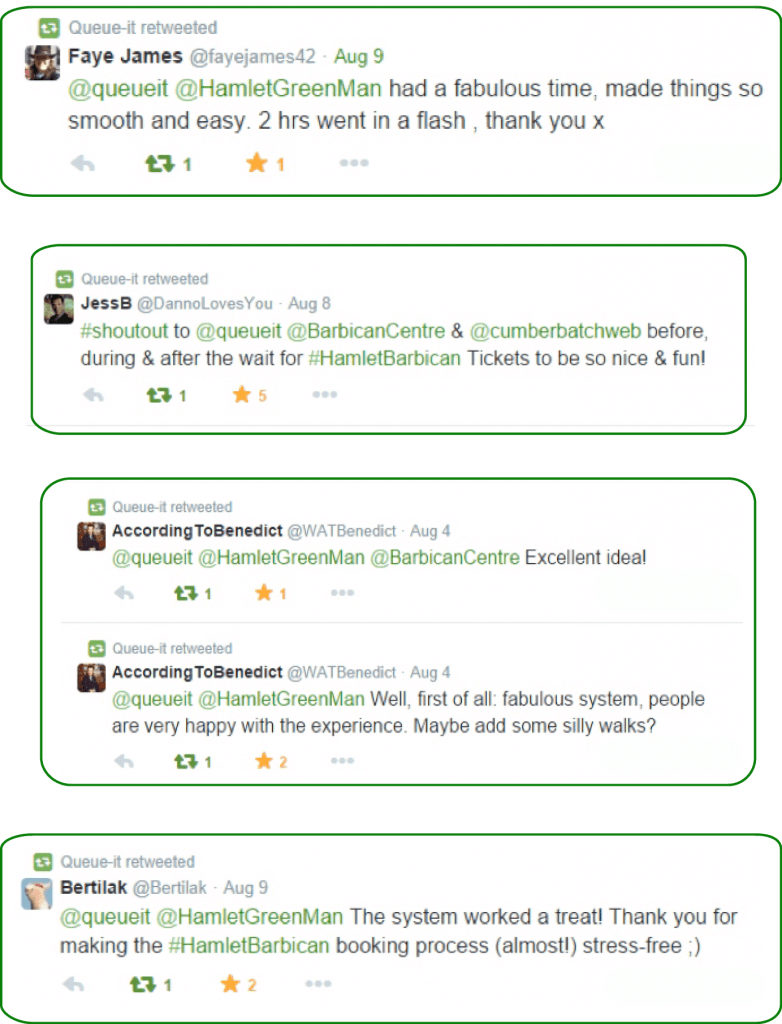 "We were really happy with the support received. The use of Queue-it paid off - the service is ideal and highly recommended to all other companies looking to manage end-user overload situations."
Nicholas Triantafyllou, IT Business Systems Manager, The Barbican


About The Barbican
The Barbican is a performance art center located in the heart of London. Officially opened in 1982 by Queen Elizabeth II, the venue hosts various arts and culture events and is the London-based home of the Royal Shakespeare Company.